Leak Star Advanced Leak Detection & Plumbing Repair, 5 Star Plumber With A Great Reputation
Water Line Repair, Slab Leak Detection & Slab Leak Repair Serving San Diego & Orange County

Timo

, owner of

Leak Star Advanced Leak Detection

is a professional, fully licensed & bonded plumber in North Co. San Diego. Timo can be reached at 760.519.8466, 24 hours a day in case of plumbing emergency. We specialize in advanced leak detection, including slab leak detection & plumbing repairs including reroutes & repipes.

Water line leaks or sewer leaks in your home or business are serious and should not be ignored. Left untreated a plumbing leak or even a slab leak can cause severe damage even to the structure of your home or place of business. In as little as a few hours, mold can begin to grow putting your family's health in danger.

As a full service plumbing, advanced leak detection company

and slab leak repair company, our friendly & knowledgeable staff will be with you every step of the way. From the moment we enter your home or business to asses your plumbing water leak, all the way through working with your insurance company, we will be there. We will not only perform a comprehensive leak detection but once the pipe or pipes responsible for your water leak, as a licensed plumber we are qualified to make the plumbing and or slab leak repairs. In floor water line repair is an option, but our number once choice in a copper line leak re-route or in extreme cases of repeated water leaks a complete reipipe of all water lines.

All under one roof we can also dry out your home or work space, removing water damaged walls, cabinets, flooring and furniture. We will contain and remove any mold contaminated surfaces that may have appeared due to the water damage in a way that prevents mold spores from spreading.

Our technicians use minimally invasive advanced plumbing leak detection equipment. With infrared cameras we can see inside your walls minimizing the need to poke numerous holes in your drywall looking for the plumbing leaking. With an

infrared camera

we can see a

slab leak

under the concrete, a sewer leak or a tiny amount of moisture caused by a pinhole leak in a copper pipe.

Your plumber may find your plumbing leak is coming from a faulty seal under your toilet. Leaking water pipes are often found in the wall behind your bathtub or shower causing the water to drip through the ceiling below. Older

water heater leaks

or poor installation are a common type of plumbing leak. If a water heater is installed in a closet, a leak can go undetected for weeks if not months. Unseen leaks under the bathroom or kitchen sink are also common. This often leads to extensive mold damage.

When we come across a gas leak we use a sniffer. When a gas leak is detected the smell can fill the air making it difficult to know exactly where it is coming from. The gas leak detector can narrow it down to the precise location within just a few inches.

Sometimes your plumber will need to listen for the plumbing leak. The leaking water pipe may be spraying through one of those tiny pinholes. For that we use highly sensitive electronic listening devices. Your plumber may also use a moisture meter that will detect even the slightest elevation in moisture in your drywall and carpets.

When your plumber accesses the problem, he will help you to fully understand your plumbing repair options. Sometimes the water line repair may be just a quick fix at the site of your water leak. Often when a visual inspection of your you copper water pipes, finding will show multiple turquoise blue dots on the outside of the copper pipe. This is an indication of corrosion on the inside of the water pipe. Those turquoise spots are where water is already slowly working its way to the surface. Sometimes it takes nothing more than to scratch that little spot to start a full on spray water water leak.

​When a water pipe is compromised to that extent a plumbing re-route will be recommended. A whole new copper water line will be routed around this section of failing water pipe.

Occasionally due to the age of the home when failing water pipes are found in one location, it can be assumed with a high degree of certainty that the rest of your plumbing is in the same condition. It that case a full plumbing re-pipe would be advantageous. Our plumbers are qualified to do your plumbing re-pipe.

​For some unfortunate homeowners, a catastrophic plumbing leak is their misfortune. Water damage can be significant. Your Leak Star plumber can go seamlessly from making your plumbing repair to removing water soaked drywall and furnishings from you home to drying up the soggy mess. When we do water and mold damage cleanup we use dehumidifiers and blowers to dry up moisture left behind from your plumbing leak along with air scrubbers to clear the air of any mold spores in the air.

​We understand how stressful any disruption to your home or business can be. Your qualifying plumber, Timo at Leak Star Advanced Leak Detection wants to help make it as painless as he can. We have decades of happy customers who have helped us earn our professional, knowledgeable and friendly reputation all over Carlsbad CA, Encintias, Oceanside and surrounding coastal cities. The place we call home. www.LeakStar.com

---

Leak Services We Provide

Water Line Leak Detection
Slab Leak Detection
Plumbing Re-route
Plumbing Repipe
Water Line Repair
Water Line Replacement
Water Damage Cleanup
Mold Remdiation

Leak Star Customer Reviews

"I smelled gas in my laundry room and called Leak Star at about 8:30am. Timo arrived at 10:15am (the promised time) and the leak was fixed by 11:15am including a trip to get a part. Very professional, fast and prompt service! Price was also reasonable compared to other plumbers in my area. I will definitely use Leak Star again." - Trisha W. in Encinitas, CA

"After having a slab leak, I called this company. They arrived within an hour, detected the leak, fixed it super fast. One thing I really appreciated was the courtesy and honesty. That's hard to find, Timo didn't try to scam me or my insurance company. The repipe was such a minimal interruption that I couldn't believe it was already complete. I will definitely recommend them to friends." - Mark B. in Encinitas, CA on Yelp

"Very prompt and professional. Took care of all our plumbing problems. Will definitely use Leak Star for any future plumbing." Google User in San Clemente

Check Out Our Plumbing BLOG
---
Our Reputation Precedes Us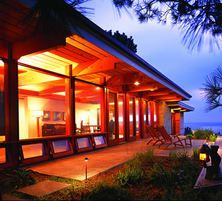 We are a local, family owned business of plumbers who have been plumbing in San Diego since 1987. Our efforts to provide such quality work we have earned an excellent reputation. Many of the homes we have installed the plumbing in have been featured in San Diego Home & Garden magazine. Some have even been featured as "Home of the Year" as seen to the left.

We know how plumbing should work from the ground up. We know the plumbing codes and we heed them. We understand that these codes are what will keep a home safe. When it comes to issues like proper water heater venting, it is critical to follow the safety codes in order to prevent carbon monoxide from entering your home. Carbon monoxide poisoning silently takes people lives. Improperly vented water heaters are something we see more than we should.

We have done everything from the underground slab work to the water pipes that run through the walls and ceilings. That makes Leak Star formerly Canyon Plumbing a uniquely qualified plumber who can diagnose your plumbing problems based on real, hands on experience.

No one ever expects it , but if you become the victim of a plumbing water or sewage leak, catastrophic or small, Leak Star is ready to help. No job is to large or ever to small. It would be our pleasure to serve you.

---
Leak Detection | Slab Leak Detection | Slab Leak Repair | Plumbing Leaks | Water Line Leaks | Water Line Repair
Plumbing Repair | Toilet Leaks | Water Heater Leaks | Mold & Water Damage Cleanup