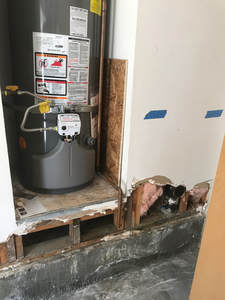 Alarm goes off, you roll out of bed and into the shower. You turn the water on and get nothing but tepid cool water. Your water heater has given up. Water heaters don't last forever unfortuneatly. 8-10 years is about average. Unless you are still under warranty, then you probably are looking at
water heater replacement
.
There is never a convenient time for your water to break, but unless you don't mind cold showers than this is kind of an emergency and you will want to call for a new water heater installation right away.
The actual water heater replacement doesn't take that long, about 3-4 hours and you should be back to business. Do hire a reputable plumber because there are safety standards that need to be complied with for your protection. Your new
water heater installation
should include earthquake strapping, a safety shut off and a safety overflow that runs off into an area where no one could accidentaly be burned if it overflows. You should have a pan installed underneath as well, in case your water heater ever springs a leak. You should also expect to have your old water heater hauled away.