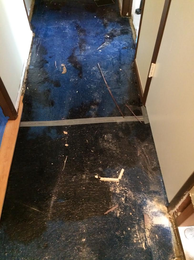 ​Quiet, gradual, nearly undetectable. Plumbing leaks can lurk within and underneath your home or business for months on end before their damage becomes outwardly visible, often in the form of mold. In order to prevent or stop leaks from undermining the integrity of your home or business, it is imperative to call a
leak detection repair
expert like Leak Star to inspect, repair, and clean the damage left behind from a hidden plumbing leak.
South Orange County homes, particularly slab leaks in Ladera Ranch, are vulnerable to pinhole leaks in their copper piping.
Slab leak detection Ladera Ranch
and South OC can be tricky, but assessing the presence and magnitude of these common water line leaks is your first step in preventing the growth of mold. Once mold arrives, the issue is no longer just a structural one.
Mold can spread like wildfire right inside your home. Once an airborne spore lands on a moist surface, mold begins to grow.. And the cycle continues endlessly. Mold spores are much more resilient than mold itself and are not limited to humid areas. They travel invisibly through the air of your home, carrying harmful mycotoxins that are known to cause respiratory conditions among other illnesses. This cycle of spread and reproduction can occur without your knowledge. Like the leak that caused it, mold works quietly, gradually, and often without detection for long periods of time.
Prevention is always the best answer when it comes to the safety of your family or employees. And the best time for a prevention check is when all seems well. Preventing or intercepting leaks and mold before they proliferate is far less expensive, less time-consuming, and less dangerous than performing damage control and repair. Using specialized equipment, Leak Star's team of professionals can perform an infrared leak detection analysis of your home, and quickly fix any leaks then and there.
In the meantime, some simple
habits
can go a long way. Keep an eye on your water bill- an unexpected increase could mean there is a plumbing leak. And if you notice a wet spot on your carpet or warping of your wood flooring- it's time to call a professional.
Plumbing leaks and their associated mold pose severe risks. For the health of your family or employees, and for the sake of your structure's integrity, call the experts at Leak Star and ensure yourself a safe, mold-free environment.