La Jolla Plumber Leak Detection Service & Repair
24/7 Emergency Leak Detecting in La Jolla, Call: 760-519-8466
Plumbing Repair | Plumbing Leak | Slab Leak | Pinhole Leaks | Gas Leaks | Water Heater Leak
Mold & Water Damage Cleanup & Remediation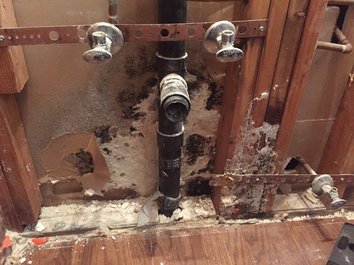 Do not ignore a plumbing water leak in your home or commercial unit. If you suspect a plumbing leak it is important to take care of it quickly. Call
Leak Star
, your trusted plumber in La Jolla. If a water leak is ignored and damages become greater then they may have been, your insurance company is likely not to cover the damage. If
mold
has grown to extent you see in the image to the right, insurance companies will not be happy.
Ignoring a plumbing leak is also a bad idea, because when your insurance company rules neglect, then the costs will fall on your shoulders. These kinds of repairs can be expensive. Water from a
slow plumbing or sewer leak
can silently move under floors, between walls, creeping up drywall, into cabinets and infecting adjoining rooms. If you convince yourself it is just a small leak and ignore it for even a few days. Here is an
example
of a water leak that appeared small and showed no outside indication of water damage.
Please act quickly, as if this is an emergency plumbing issue, because it is. We offer free leak detection when we do the plumbing repairs and dry out if the need be.
Leak Star Advanced Leak Detection has been servicing beautiful coastal homes in La Jolla since 1987 and is a 3rd generation owned leak detection & plumbing business.
Timo
of Leak Star has a reputation that has earned us the stature of being among the top 2% of plumbers in all of San Diego County. We have built Leak Star Plumbing on a foundation of pride & excellence. Our goal has always been to give our clients a turn key product, leaving them nothing to worry about when we are finished. If you as a La Jolla business owner or homeowner are seeking this kind of service from your plumber doing leak detection, repair and mold and water damage restoration, then your search is over, Timo owner of Leak Star is who you have been looking for.
When you choose Leak Star Advanced Leak Detection we will not only do your leak detecting, but once we have found your problem......we can fix it for you. No dealing with multiple contractors. Our reputation is that of being precise, fast & clean having longstanding relationships with our past homeowners, looking after all of their plumbing needs year after year. ​
---
---
La Jolla is built into the hilly & curving coast line of San Diego County. It is a resort community with a population of a little under 43,000. La Jolla is know for it's beautiful sea bluffs, with average temperatures in the low 70s. It is home of Scripps Institute of Oceanography, and lots of seals with their young who have taken up residence at what used to be the children's pool.
La Jolla Leak Detection

Service Area Zip Codes: 92037, 92038, 92039, 92092, 92093

---

Customer Reviews

Excellent job, quick and clean. I have used Timo (owner) of Leak Star for several years. He is always prompt, doing an exellent job and does not leave a mess. I also refer him to all my clients, as a Realtor, it is always important to have a good plumber that does an excellent job! Yelp Review by Monica M. in Vista, CA

After having a slab leak, I called this company. They arrived within an hour, detected the leak, fixed it super fast. One thing I really appreciated was the courtesy and honesty. That's hard to find, Timo didn't try to scam me or my insurance company. The repipe was such a minimal interruption that I couldn't believe it was already complete. I will definitely recommend them to friends. Yelp Review by Mark B. in Carlsbad

24/7 Emergency Plumber
---
| | |
| --- | --- |
| North San Diego County | South County San Diego |
---