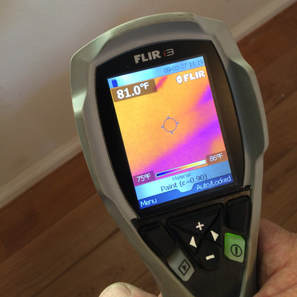 If you are an informed and savvy consumer and you have experienced a slab leak or any other kind of water pipe leak in your home, you have probably been doing your online research. Getting customer reviews, looking for the best price, etc. You have probably noticed a variation in prices from one plumber to the next. Why is that? Some are a bit more expensive. Why the difference and do you need a
slab leak detection specialist in Ladera Ranch
?
You should know that
NOT all plumbers are qualified leak detection specialsts
, but all qualified leak detection specialists should be qualified plumbers. Qualifed, that's an important word. There are plumbers of all sorts. Their skills can vary widely. There are the "handyman" plumbers. A handyman plumber is perfect if you have a hairball that needs to be removed your bathtub drain, or you have a dripping faucet or clogged toilet. Even in such cases you want to be sure that they are still qualified, they are licensed and have the proper equipment to do a complete job.
There are plumbers who are or who have been new construction plumbing contractors. They should have a deeper understanding of the plumbing of a building from the inside out. They should know what the plumbing codes are and apply them. A plumber of this caliber would also be capable of making the minor repairs described above. That may not be their specialty, but they are qualified.
Then there are qualified plumbers who specialize in leak detection. You should expect a leak detection specialist to not only be a licensed, qualified plumber, know the plumbing codes, and apply it, but they need to have the specialty equipment to perform a slab leak detection or any other leak detection inside of your home properly. They should be able to do this with out taking a sledge hammer to your walls or floor. There is no need for that.
You need a
slab leak detection specialist in Encintas
. Do NOT ever hire a plumber based entirely on their price. You will always get what you pay for. The nighmare stories we have heard from customers of plumbers who claimed to do leak detection would make you think twice about going the less expensive route. The cost in damage repair will by far ooutweigh the extra $50 you would spend for a qualified slab leak detection specialist. If a plumber doesn't have the proper equipment they will
​have no way of doing a slab leak detection or any other kind of leak detection without poking holes all over your drywall looking for the leaking pipe. Just because your carpet is wet it does not mean that your leak is there, it could be in the ceiling, several feet away or under the concrete slab two rooms away.

With the proper leak detection equipment we can see into walls, through your floors & hear the hissing of a leaking pipe in the wall and even under the concrete slab foundation. That means we don't need to punch holes in your walls. We are will treat your home as we do our own.

So you may be wondering what kind of slab leak detection & leak detection equipment do we use. There are the listening devices. Highly sensitive hearing aids that can pick up the smallest sounds. The can be placed on the floor, walls and even on specific copper pipes to pick up not only vibrations but the actual hissing of a leaking water pipe.

We also use infrared cameras, especially helpful for under concrete slab or foundation leak when it's hot water. Also, helpful when looking for overhead or in wall water leaks of both hot and cold.

Then the best tool of all is experience. Understanding how plumbing should have been installed when your home was under construction is priceless. Knowing how the intricate plumbing system likely makes it through your home is invaluable. That kind of experience comes with decades of experience. At Leak Star Advanced Leak Detection, we have decades of plumbing experience. Give us a call and we will happily answer your questions.