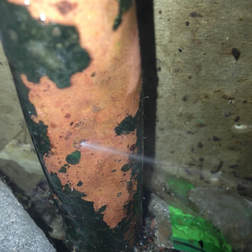 To get a better understanding of how small leaks can lead to significant water waste, the U.S. Environmental Protection Agency (EPA) reported that the average household leaks more than 10,000 water gallons each year, which is the amount needed to wash a laundry load 270 times. All over the U.S., total household leak reaches 1 trillion gallons every year.

In California, the Department of Water Resources approximated that the state is losing up to 228 billion gallons of water every year, which is more than sufficient to provide the water needs of the whole city of Los Angeles for one year. The direct impact of this kind of water waste is higher water bills for customers, because total water expenditure includes the payment for stolen and lost water too.
Based on statistics, responding to water wastage is a significant public concern. Plumbers are essential to addressing this issue because they have the knowledge, skills, and expertise in finding plumbing leaks, and performing different kinds of plumbing replacements and repairs.
Common Causes of Household Leaks
According to the U.S. EPA, the main causes of household leaks are damaged toilet flappers, faucets, showerheads, and other valves. Water may likewise seep from joints and fittings or tiny pinhole leaks in copper pipe. Often these leaks are in the walls or under concrete slabs. In that case a professional leak detection is required to minimize damage. Outdoors, the irrigation system may also have small leaks. Garden hoses leak, too, when they have connection problems with the spigot, or when they are already worn out.
How a Plumber Helps Address the Problem of Water Loss
If the water loss is due to pipe issues, a
plumber
who specializes in leak detection can definitely help identify and appropriately respond to plumbing leaks promptly. Plumbers can find what causes the leaks and replace old pipes or in some case reroute around failing pipe. This may be expensive at first, but it can lead to a long-term solution towards stopping future plumbing leaks.
Some very old plumbing pipes need to be replaced to head off catastrophic problems which would cause collateral damage to the home. Plumbers can also replace faulty water pressure valves and connections. Plumbers can reduce pressure on the pipes through temporary fixes, particularly if the customers are trying to save for a full pipe replacement in the near future. When doing leak detection some plumbers use special sounding devices to identify leaks and subsequently fix them.
A plumber can be a huge help in providing either temporary fixtures or long-term reroutes or complete pipe replacement programs to get rid of water waste. Thus, you can say that hiring an experienced plumber is one of the first steps towards preventing the loss of trillions of gallons of water in the U.S. each year.
Sources:
"Fix A Leak Week," WaterSense, U.S. Environmental Protection Agency, December 8, 2016 https://www3.epa.gov/watersense/pubs/fixleak.html "Leaky pipes waste millions of gallons of water in L.A., Pasadena and San Gabriel Valley," Mike Reicher, Pasadena Star-News, October 21, 2014