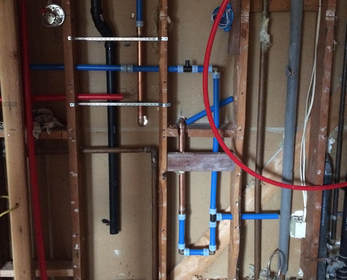 If you've just discovered that you've got water puddling, and you think it might be a slab leak, it can seem like an overwhelming problem. However, once you've found the leak, odds are you need to secure a qualified
slab leak detection Carlsbad
professional. Delay, or improper fixes from "handyman"-type contractors, can be costly in more ways than one. You want to make the needed slab leak repair as quickly as possible.
1. Your Water Bill
Many people first realize that they might have a slab leak when they get an astronomical water bill. Even if you weren't worried about the water damaging your home, most people can't afford the continued high cost of a leak--let alone the environmental impact of wasting hundreds of gallons of water.
2. Structural Damage
Both undetected leaks and improper "handyman"-style fixes can allow water to cause significant damage to the foundation of the home. If not corrected, over time the water can actually weather the concrete enough to cause the foundation to shift, and sometimes even cause parts of the structure to become unstable and in danger of collapse. It's best, of course, to fix your leak correctly
long
before things get to this stage, which is why prompt leak detection, repair, and, if necessary,
repiping service
, are so important.
3. Cosmetic Damage
While structural damage to your home can be frightening to contemplate, slab leaks that well up under your floors can also cause significant amounts of cosmetic damage when they soak carpets and drywall, warp wood floors, and cause unsightly stains. This kind of damage can be discouraging, expensive, and can hamper your ability to enjoy your home. The biggest problem? If you hire an unqualified repairman, you might end up dealing with multiple slab leaks, and the attendant cosmetic damage over time. Nothing is more frustrating than having to repaint a wall
again
. The best way to make sure that this doesn't happen is to use a qualified professional the first time, who can advise you whether a small leak repair is adequate, or whether it would be more cost-effective over time to simply repipe the system.
4. Health And Safety Danger
Ultimately, the most important consideration is the your health and that of your family. The biggest health danger with leaks is the growth of mold and mildew. Particularly if any family member has asthma or other breathing problems, mold spores in the air can be quite dangerous. Once again, the best way to prevent this is to begin repairs as rapidly as possible, and make sure that the person repairing your leak knows what they're doing so that any water damage is halted at an early stage.
While nobody enjoys discovering that they've got a slab leak, fixing your leak shouldn't be a miserable experience. We want you to be confident that your leak is going to be fixed in a timely, professional manner, and we don't want you to worry about unnecessary damage to your home. As slab leak specialists, it's always our goal to get your leak repaired in a timely, professional manner, so that you and your home can get back to normal. If you have a slab leak, give us a call! We'll be glad to help.
​
Sources
:
Why Slab Leaks Can Damage Your Home - www.accurateleak.com
About Us - www.leakstar.com