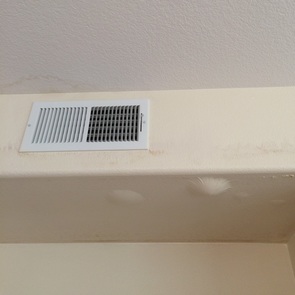 One of the worst scenarios as a homeowner is to come home from
vacation
to find that while you were away, at some point your plumbing began leaking. You may find significant
water damage
to the ceiling, drywall, floors and furniture. This is catastrophic loss. To make matters even worse, If it had been more than 24-48 hrs. since plumbing water started leaking, you will likely be looking at mold damage as well. With each and every day that goes by, the mold will spread further and further. It can even spread to distant locations simply because of increased humidity in the home. All of this made even worse during warmer weather.
Of course immediately call in a qualified plumber who can perform a leak detection and dry out if needed. At Leak Star, we are qualified to make the leak detection, make the plumbing repairs and then clean up the water and mold damage.
Prevention of water and mold damage in the first place is a far better option. It's really simple to do, just turn off the water to your house before you leave for more than just an overnite trip. Even if you live in a condominium or town home, you will have your own water shut off.
​There are 2 types of shut offs that will cut off all of the water in your plumbing. A gate valve looks similar to a hose bib faucet and a ball valve which usually has a single handle. To shut off the gate valve, just turn it all the way to where it stops, like you're turning off a hose. A ball valve is equally as simple. When the water is on, the handle will run parallel to the pipe it is on. To turn the water off, rotate the handle, it will be a quarter turn to the right or to left. That's it. A whole lot of protection for very little work.

If you live in colder climates you will typically find the shut of valve inside, possibly in your garage, or in the basement. Usually it will be located close to the the area of your home/structure where the water would be coming from the street main. In warmer climates, it sometimes is found outside, similarly towards the front of your home, closest to the street.

It is really important to make every effort to prevent this type of water or mold damage to your home because once mold sets in, it is not uncommon for insurance policies to exclude mold coverage. Even if away from home when the plumbing leak happened. With some insurance companies there can be a little wiggle room. We can help you with that if it's possible. Occasionally even if there is mold, insurance will cover all but the cleanup of the mold itself. So if they give you a no as the frequently do, continue to pursue the water damage which minus the mold would have been covered.

Give yourself peace of mind while on vacation and simply shut the water off.