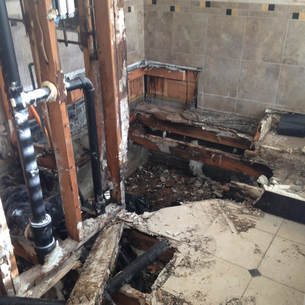 Plumbing leaks are very often leave homeowners in need of
water damage repair
. If your are fortunate enough it is minimal, but sometimes is serious, possibly even catastrophic. The first thing you as a homeowner suspects a water line leak, you want to call us for
leak detection
if you are in Carsbad or other neighborhoods of North County.
There are various degress of water damage and the most serious types are those cause by black water, water coming from toilets and drains. Then there is water damage that includes mold very often because no one was aware of the water leak or it was ignored.
Both of these types of water damage repair jobs can be costly and time consuming for the homeowner. The damage from both of these situations requires removal of all wet and exposed materials. In the case of black water which is highly contaminated water, that means flooring, drywall, cabinets and furniture that have become wet with black water. There really is not saving these items.
​In the case of water damage resulting in
mold
, wet and or moldy drywall must be removed. If carpet and furnishings like pillows, sofas or clothing has become moldy, there will be no saving those.
Barriers must be set up to contain pathogens and mold spores before drywall and other property is removed in order to prevent the spread. Air scrubbers will be brought in. Tech will wear protective gear and breathing apparatus. Then drywall, flooring and possesions are removed. Once all contaimined property is out all surfaces including the studs in the walls will be scrubbed with antimicrobials and in the case of mold, antifungals. At Leak Star we do our best to use low impact cleaning products to protect the environment.
Once contaminants have been cleaned up, very large dehumidifiers will be brought in. These dehumidifiers are so effecient that within 3 days everything within the containment zone should be bone dry. Once that is done, containment fields are removed and we sweep up and you now have a clean slate to continue with the water damage repair.
At
Leak Star
we are your first line of defense. There is no need to find a leak detection company, a plumber and someone to do the water damage cleanup. We are qualified to do it all. As plumbing contractors we are not able to make the structural repairs, like drywall repair, stucco and paint, but we can make some excellent recommendations for you.