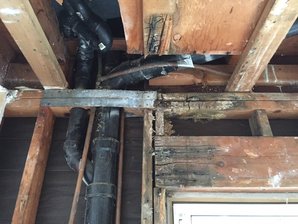 Is there a difference in mold or dry rot? Good question. The answer is yes they are different, but they are also similar in that they are both fungi.

It is not uncommon to find mold or dry rot in the very same spot, actually growing together. So let's talk about their differences, similarities and most importantly how both can seriously damage you home if ignored.

Let's look at the similarities of mold or dry rot. Being they are both fungi, both are found on damp wood. Both can cause damage to the wood structure of your home. Both are often found in laundry rooms or the bathrooms of your home where humidity is often higher. Anywhere condensation is a problem or location where constant dampness is a factor mold or dry rot can become a problem. The good news is that both can be controlled IF prompt action is taken to arrest the spread of either fungi.

Mold
​
Mold unlike dry rot grows just about anywhere. One of the most common places to see mold is in the shower stall. You may also find it on windows and window sills where condensation builds during winter months. Being that we specialize in leak detection, let's focus on the potential of mold growth if you do not act quickly after you experience a water leak or flood.
When a water leak is large, it is a no brainier. People jump into action because the potential for damage from the water alone is obviously significant. However, when a
water leak is small
, you may be inclined to think there is no rush. But, beware. Water travels, even if it starts with a small drip or spray from a pinhole leak. As wood, drywall or insulation becomes saturated with water and can hold no more, the moisture begins to spread outward. Reaching a joint in wood studs, it moves from one stud to another. If on the floor, water will move along the floor, spreading even into rooms you thought uninfected. It can seep into carpet padding, yet give you no indication of trouble on the carpet surface.
All mold needs to grow is moisture, oxygen and a growing medium or food source. Wood, drywall, paper, baseboards and insulation are all excellent food sources to grow a healthy mold colony. Time is of the essence. Mold grows rapidly. It can take as little as 24 hours for mold spores to begin to take hold even if unseen to the naked eye. Depending on moisture levels mold can be seen in as little as 48 hours.
When mold sets up housekeeping in carpets or drywall, there is no choice but to remove all of the contaminated materials. Hardwood floors where water has seeped underneath, generally must be torn out. Same can be true with tile, there is just no way to dry out under ceramic floor tiles. Cabinets, whether solid wood or press board can all be impacted by mold growth. Sometimes it can be cleaned up, but if you wait too long, it can mean complete removal and replacement.
Mold is also very hard on the health. Mold sensitivities are common and for some who are allergic, mold can diminish the quality of life.
Dry Rot
Dry rot fungus also known as Serpula lacrymans when found is usually in the company of mold. Think of the fallen tree in the wood as it disintegrates over time. That is dry rot. The name itself may be misleading, but dry rot also likes damp conditions. Dry rot is a decay fungus and is typically found on wood. Wood is the food choice of dry rot. We often find dry rot when a long standing water leak has been ignored. It takes about 7-10 days for the fungus spores to germinate (yes, like a plant seed). Not all wet wood will succumb to dry rot, but it will certainly be at risk if left untreated.
Dry rot fungi has a ravenous appetite for wood. Given enough time it can eat through studs and even large beams leaving the structural stability of your home in question. The costs of those kinds of repairs can be astronomical.
How to Protect the Investment in Your Home & Health
It's really simple. Don't wait if you suspect a water or slab leak. Having repairs done quickly will make all the difference in your headache and the impact to your wallet. Give us all call. We will help you sort this out as quickly as possible.
www.LeakStar.com