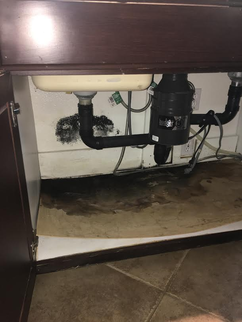 Sometimes, it's what you don't see that can hurt you the most. Such is the case with
mold
, which can infest your home when leaking water or sewer pipes go undetected. If you've been feeling under the weather recently, but can't quite pinpoint the reason, it's worth checking to see if your home harbors a mold infestation.
What is Mold?
Before going further, it is important to know what mold is. They are a type of fungi that live both indoors and outdoors. There are thousands of mold species on the planet, and they tend to thrive in damp, humid conditions—just the type of environment a hidden water heater, slab leak or toilet leak fosters. To reproduce and spread, it releases spores that can unleash a variety of harmful symptoms.
Furthermore, certain mold species are also known to produce powerful substances called
mycotoxins
. According to scientists, common molds are known to produce about 200 different types of mycotoxins.
Since molds are usually hidden from view, people exposed to them often experience an adverse health reaction without a clue about the cause. Though they might get treatment to ease the symptoms, they inevitably recur because the true culprit remains thriving and undetected.
The Bad News
Just what are the bad effects that molds can wreak? As it turns out, these unassuming fungi can do a lot of damage to one's health:
Vascular System.
Since mold toxins are inhaled, they can cause hemorrhaging of the lung tissues. Aside from this, they can also weaken the body's blood vessels.
Respiratory System.
Speaking of your lungs, both the spores and the mycotoxins that molds release can cause breathing problems, thereby aggravating existing conditions such as asthma.
Digestive System.
Molds in the home can also impact your digestive system, causing symptoms such as diarrhea and vomiting.
Skin Problems.
If you're experiencing sudden rashes and other skin issues, the problem may also be linked with mold exposure.
As you can see, molds can pose serious ramifications to one's health. The only way to truly solve the problem is by making sure that any water leak in the home is repaired quickly to discourage mold growth. Luckily, a trusted Carlsbad
plumber
can identify well-hidden water leaks by doing a thorough leak detection including a slab leak detection to end the threat of molds once and for all.
If mold is found once the water line repair is done it is important to have a mold clean-up and remediation done in order to destroy all of the existing mold spores.
Sources:Why Almost All Sinus Infections Are Misdiagnosed and Mistreated, Mercola.comMold, CDC.gov