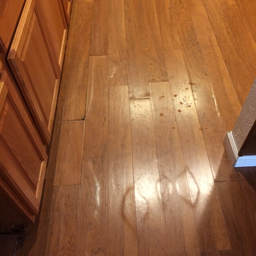 A plumbing leak does not always have to mean catastrophic
water damage
. Saying that, I can promise you that if you ignore your plumbing leak the water damage will be significant.
An ignored plumbing leak is going to burn a hole in your wallet and your insurance company is likely to deny your claim because you are considered negligent when you are aware of a water or sewer leak and ignore it. They will not be willing to pay for catastrophic damage when it is only catastrophic because you ignored it.
The image to the left is from a home that clearly had some sort of water damage and it had been clearly going on for quite awhile. It turned out that all of the flooring had to be removed. Some of the cabinetry had to be removed as well.
Not only was there water damage that needed to be cleaned up, but mold had become a major problem.
You don't want mold. Not only is mold dangerous to your family, especially if anyone suffers from asthma, allergies or autoimmune disorders but cleanup is going to cost you. The larger the mold contamination, the greater the danger and should be contained during the cleanup process in order to prevent mold spores from spreading through your home or place of business.
The cause of the all this damage in the home shown, was simply a
slab leak
that had seeped up through the slab, through cracks saturating the flooring and lower parts of cabinets and some drywall.
There is never a good time to have to deal with a plumbing leak, but it will take even more time and funds to make the repairs if you wait till a more convenient time. Give us a call @
855-220-0188
.