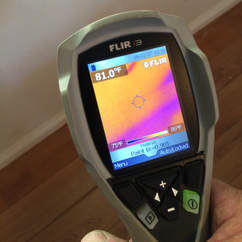 If you don't find a qualified slab leak detection specialist who can properly locate your slab leak the first time, you can end up with a real landlord or homeowners headache. There are countless water lines running under the concrete slab and narrowing down the specific pipe that is leaking takes skill.
We hear nightmare stories of
slab leak detection in Encinitas
and
slab leak detection in Carlsbad
where the home owners floors were demolished when the leak detection company they chose used a jackhammer to locate the leak and then fix it. Please stop them right now if this is what you have been told is necessary in order to repair your slab leak. Talk about a headache. Imagine the sound of a jackhammer pounding away at the concrete foundation in the middle of your kitchen or living room.
At Leak Star Advanced Leak Detection we never jack hammer floors because there is absolutely no need to do so. Whether you are looking for
slab leak detection in San Marcos
, Encintias or Carlsbad our leak detection routine is the same. We use highly sensitive sound equipment, infrared cameras and years of knowledge to locate your slab leak without even touching your beautiful floors.
Once your under concrete slab leak has been located, we simply abandon and bypass the defective water line, rerouting through either your attic or through some carefully cut smaller sections of drywall which are easily repaired. The repipe is usually completed in one day and there really is no reason to leave your home unless you are unsually sensitive to a small amount of dust.
If you still have questions, please feel free to give us a call. We would be happy to set your mind at ease.
760-519-8466