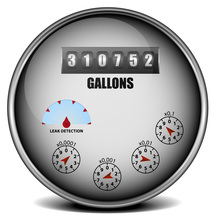 We all want to save our hard earned dollars and avoid disasters. By using these DIY early plumbing leak detection tips you could do both. Much of your plumbing water lines are deep underground or under the slab of your home. So the signs of a plumbing leak may not be obvious. Nevertheless a water leak usually will yield some clues.

Chances are one of the first things you notice that might be suspect is your water usage and an increasing water bill. 12,000 gallons of water per month is average for a family of 4. If you notice a consistent increase or even a significant jump in your water bill yet your usage has not changed, a plumbing leak is highly suspect. Your water bills should remain relatively consistent if your household stays the same.

If you notice a warm spot on your floor, it could becoming from under your concrete slab. It could possibly be a slab leak, even if you are not seeing water anywhere else. You may hear the sound of running water or a drip, all of these are clues you need a professional plumber to inspect your plumbing lines.

​ If you have become aware of even one of the above issues, the next thing you can do for yourself is to check your water meter. It is really simple to do on your own. Just be sure to turn off all of the water in your home and outside such as sprinklers. Make sure the washing machine or dishwasher are not running and even check for toilets that are prone to run.
Now go outside to your water meter to take a look. If you notice an immediate change while watching it, you may have a major leak. If nothing seems to be happening, leave it for a couple of hours, make a note of the reading (continue to not use the water) and when you come back if it has changed you may have a slower plumbing leak. This test will tell you that you have a leak anywhere after the water meter and this is the responsibility of the resident.
From there again this is where a professional, licensed plumber, specializing in leak detection like Leak Star comes in. We will be able to narrow down the location of that plumbing leak while keeping exploratory damage down to a minimum.
A toilet can be the reason for excessive water consumption. A really easy test for this and one that the kids will enjoy is to put a few drops of food coloring into the water tank of your toilet. Let it sit for a few minutes undisturbed. If the food coloring ends up in the bowl of your toilet, then you have a toilet leak. A leak of this nature can account for large amounts of lost water = lost dollars.
Water loss can occur outside of your home too. Check hose bibs/faucets for drips. If you find something, repair it. Irrigation systems can develop leaks too. If you notice unusually soggy areas in your yard that never seem to dry out, call a professional. If you have a landscaper, they might be able to help, if not a licensed plumber could do it.
Don't ignore mold growing in an area you would not expect to find it. Don't ignore a bulge in your ceiling or wall even if it appears to be dry. A musty smell….these are all warning signs and if you are observant you will not only potentially advert a very costly plumbing disaster, but you will save yourself money that can be better spent enjoying your free time.
Older homes can be particularly worrisome. However even newer homes experience problems with newer copper piping that is particularly vulnerable to chemicals that are added to the
water causing corrosion
leading to one failure in your copper lines and then another and another.
​
If you suspect a plumbing leak, don't wait. Plumbing leaks never improve, they always get worse. Doesn't matter if it is a toilet, a water heater or water pipes in your wall, they will all only get worse. If you have concerns please call and talk to one of our friendly and knowledgeable licensed, bonded and insured plumbers.
www.LeakStar.com