​In simple terms, a slab leak is a water leak that occurs in the pipes underneath the foundation or in the concrete slab. It can cause enormous destruction to homes if left undetected like unstable soil conditions and cracks in the foundation.
This type of leak is harder to detect than those that leave traces of water on walls and ceilings. As unnerving as they may seem, Leak Star can repair these leaks competently and swiftly. Our technicians specialize in
slab leak detection
and we guarantee first-class, unparalleled service.
Before your plumbing situation escalates to the point where a professional is needed, here are a few things to look out for:
Cracks
Do you see some cracks in your walls or floors? This could be a sign of a leak. In some cases where the slab leak is very large, water may come surface in the yard or around the outside of the house. In the example below, you'll notice water from a slab leak seeping out of the expansion cracks in the driveway.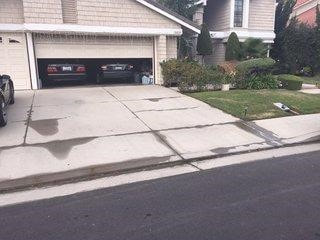 Our specialists use infrared cameras to detect hidden plumbing water leaks. Not only that, we're also able to see energy leaks and electrical wiring "hot spots."

​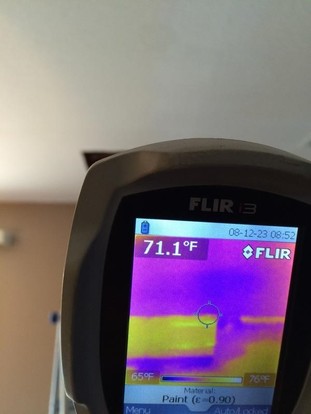 High water bills
If your water bill has risen sharply and unexpectedly over a short span of time, there might be a plumbing leak in your home. One handy trick to make a rough assessment yourself is to check whether your water meter keeps spinning after you switch off your home's water supply. If it does, there is most likely a leak.
Mold and mildew
Mold spots showing up around your home may not be as random as they appear. Slab leaks can easily spread into your drywall where mold can grow very quickly. Aside from their unsightly appearance, mold is known to cause serious health issues.

​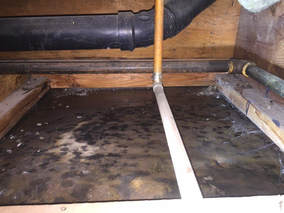 Odd sounds
Sometimes a leak may be present without any visible indicators whatsoever. Try listening for sounds of running water (including hissing noises) from under the slab. During a professional inspection, a special listening tool would be used. These devices can hear minute sounds generated by air escaping from a damaged water pipe.
Call Leak Star Today at 760-510-8466
Do you think there is a slab leak in your home and a
repiping service
is necessary? Then act quickly and give the experts at Leak Star a call. We are committed to providing all of our clients with fast, efficient, and outstanding service.