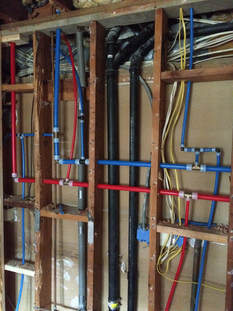 We hear this question often, when is it time to consider repiping your home. It's really not that difficult of a decision is you consider the cost options. You may be considering
repiping Carlsbad
homes, or
repiping Encinitas
homes. You probably came to this consideration because you have already experienced at least one water line leak, however you are likely on your 3rd of 4th water leak.
Let's consider the cost of repairing a single line water leak under the slab also known as a slab leak. If you use
Leak Star Advanced Leak Detection repiping service
, a single line reroute will cost you $1750 flat rate. That would include the cost of your leak detection. What often happens is that one line is abandoned and rerouted and another separate copper water line springs a leak. It could for instance be the hot water that was fixed the first time, now it's the cold water line either right next to the hot water or in an entirely different location of the house. It could be in the wall or it could be another slab leak.
​
Once copper pipes start springing leaks it's genreally just a matter of time before more leaks appear. Copper pipes can corrode over time or as is very often the problem in our area, the additives in our municipal water meant to protect us, corrode the inside of the copper pipes. There is nothing that we can really control.
​
So back to the cost of a single line repiping in Carlsbad or repiping in Encintias. Each time a single line repipe or reroute is going to cost you $1750. On your second leak that is going to now have cost you, $3500 and there is a good chance there is another leak in your future. You see where this is going. It can cost you a tremendous amount of your hard earned cash and that doesn't even account for the stress and worry about having another leak appear when you are not home.
A complete repiping service in Carlsbad or a full repiping service in Encinitas was start at about $5000 for a smaller 3 bedroom. All of your copper pipe will be replaced with PEX pipe so you never have to be concerned about the corrosion of your copper plumbing system again. A small home will take about 3-5 days to complete and usually there is no need for you to leave your home unless you are particularly sensitive to dust.
For more information on our repiping service, give Leak Star a call. Ask for Timo and he would be happy to answer all of your questions.
760-519-8466