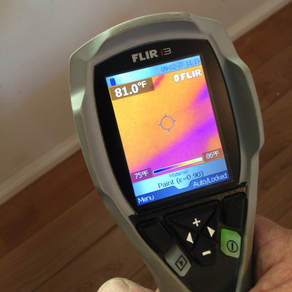 If you have found this article it propably is because you have noticed a warm spot on your floor and you are wondering, what does a hot spot on the floor mean? Does it automatically mean you have a slab leak? It could, but not always.
The best thing to know for sure is request a
slab leak detection in Encinitas
or
Carlsbad
from a reputable leak detection company. But for you call someone, give it a little thought.
Is the spot more hot than warm? A slab leak coming from a leaking hot water line will be fairly hot. If it feels more warm and you have a pet, could it be that they were laying there. Or does the sun shine there warming the floor. Or if it is near the refridgerator, is the motor warming the floor. These may sound like odd questions, but it does happen. We get called out and it turns out there is no leak.
After all of those scenarios have been ruled out, is this a new problem or have you noticed it for awhile? Has it grown in size? Do you hear sounds of water running, a hissing sound maybe? Has your water bill changed recently without an increase in obvious water usage? These will be questions that a qualified leak detection specialist will ask you over the phone.
Finally, when you do decide to ask for help, give
Leak Star Advanced Leak Detection
a call. We often know whether or not our client is dealing with a slab leak or not just by talking over the phone. If what you describe needs further investigation we have the expertise to locate the precise leaking pipe.
Slab leak repair entails, abandoning the leaking pipe and rerouting or repiping a brand new one line. We don't ever jackhammer floors and try to fix the leak. A copper line that has sprung a leak is likely to be plagued with additional leaks in the future. It's best to just put in a brand new line. A new water line reroute is far less difficult on occupants than breaking through the concrete.
If you suspect a slab leak, do your due diligence. Another thing you can do yourself is to check your water meter. Be sure all water is off and if the meter continues to go round and round, then you could very well have a problem. Ignoring a slab leak can cause you a serious headache down the road.
Give us a call, we'll help you decided what the next step should be.
855-220-0188