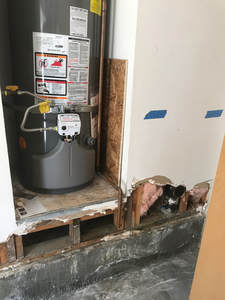 Alarm goes off, you roll out of bed and into the shower. You turn the water on and get nothing but tepid cool water. Your water heater has given up. Water heaters don't last forever unfortuneatly. 8-10 years is about average. Unless you are still under warranty, then you probably are looking at
water heater replacement
.
There is never a convenient time for your water to break, but unless you don't mind cold showers than this is kind of an emergency and you will want to call for a new water heater installation right away.
The actual water heater replacement doesn't take that long, about 3-4 hours and you should be back to business. Do hire a reputable plumber because there are safety standards that need to be complied with for your protection. Your new
water heater installation
should include earthquake strapping, a safety shut off and a safety overflow that runs off into an area where no one could accidentaly be burned if it overflows. You should have a pan installed underneath as well, in case your water heater ever springs a leak. You should also expect to have your old water heater hauled away.
If your water heater is leaking, don't ignore it. Leaky water heaters often cause water damage. You may noitice what appears to be just a small amount of water, don't be fooled into thinking it isn't that bad. Water may quickly appear to disappear as it moves under walls, behind cabinets, under carpet or flooring on the other side of the wall. Mold can set in and a matter of a couple of days and then you have a whole new set of problems. Mold can be dangerous to your health and requires specialized clean up.
There are various sizes of water heaters, the most common is 100 gallons, probably what you have now. This would be a good time to make a change in water heater size if you feel you don't have enough hot water. You might also consider upgrading to a tankless water heater. They are efficient and take much less space, in fact they can be be installed on the outside of your home. Upgrding to a tankless water heater is more costly for several reasons. A tankless water heater just costs more, plus there will be a bit more plumbing to do, most likely including increasing the gas line as a tankless water heater requires more BTUs in order to flash heat the water. But the upside, you will have limitless hot water and as fast as you need it.
So if it's time for a new water heater installation, give Leak Star a call @ 855-220-0188 and let us take care of you.