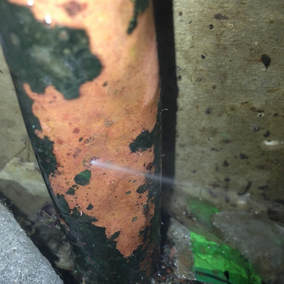 Your home is like you. As it ages, over time systems begin to breakdown. Your plumbing can be compared to a circulatory system. It is critical to maintain that system. Like our circulatory system, your homes plumbing pipes begin to errode and and there can be a mineral buildup narrowing the flow of water, reducing your water pressure.
You may chose to live with low water pressure. It's not particularly harmful if you don't mind showering in a trickle of water. But errosion of you copper water pipes and a forthcoming plumbing leak can be devastating.
Repiping Encinitas
homes and
repiping Carlsbad
homes is increasingly needed as the homes in our area age and the pipes begin to fail.
Repiping your home is not nearly as terrrifying as it sounds when you use a company like
Leak Star Advanced Leak Detection
. Timo of Leak Star has been plumbing the San Diego area since 1987. Having earned a reputation that had him plumbing some of San Diego's most exquiste estate homes. That requires a level of skill and precision not seen among most plumbers. The reason is Timo is maticulous.
Leak Star Advanced Leak Detection has repiping Carlsbad and Encinitas homes down to an art. They carefully route new pipes through your walls, ceilings and crawl spaces with the least amount of damage as possible. Repiping Encinitas homes will take about 3-5 days depending on the size of your home. When complete, you will simply have a few holes in the drywall that need to be repaired. You will not need to leave your home if you chose not too. Your water will remain on until the time when all of the final connections are made.
Repiping your home is really not as painful as you may have been lead to believe. For further information, please give Leak Star a call and ask to speak with Timo (Teemo) @
855-220-0188
.