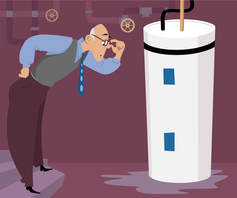 Is it time for a new water heater? The average life of a water heater is about 10 years. Yours may have quit altogether or you know the end is not that far off. You could wait until the end, but then there will be inconvenience when it finally does break down for good. Nothing worse than having a cold shower on a rainy Friday night as you head into your weekend.
Either way, let's make sure you understand your options. If you need to replace your water heater and live in the
Carlsbad or Encinitas
area your two options are the tried and true old style tank water heater vs tankless water heater also know as a flash water heater. Feel free to give us a call too,
855-220-0188
.
​
​
Pros & Cons of a Tank Water Heater
​
Pros
Lower Initial Cost: A traditional tank water heater will cost about half that of a tankless water heater.
Easy to Replace: Fairly simple installation. Often if you are handy and have the muscle, you can do it yourself.
Cons
Higher Monthly Utiility Costs: The water in the tank is heated much the same as a pot on the stove. You heat it up, but if your remove the energy source it will cool down. So you need to heat it again. This process goes on 24 hours a day in your tank water heater, even when you are not home. Those costs add up especially during the colder winter months. With lower temperatures the water inside your water heater will cool much quicker making it necessary for your water heater to come on in order to keep the water at your preferred temperature.
Harder to Locate Them: Tank water heaters are big and it is often difficult to find a suitable location to hide them. Outside is only an option if you do not live in areas where freezing temperatures are common. If that is not you, iyour water heater still can't just sit outside, it must be in a water heater closet to protect if from the elements.
Often Run Out of Hot Water: There is nothing like being the last one in the family to take a shower. Unless others thought of you, it's gonna be a cold shower. You could purchase a larger tank, but that means additional cost at startup and increaded monthly utility bills.
Shorter Life Span: The life span of a tank water heater is about 8-12 years. That is about 1/2 the life expectancy of a tankiess water heater meaning a tank water heater will need to be replaced twice as often. Factor that into you decision making too.
Pros & Cons of a Tankless Water HeaterPros
Longer Term Money Savings: For homes that use about 41 gallons of hot water on a daily basis, a tankless water heater will be 24-36% more energy efficient. That savings adds up.
Much Smaller: A tankless water heater is significantly smaller and can even be located outside on a wall.
Longer Life Expectancy: Lasting 20 or more years, that is nearly twice the expected life of a conventional tank water heater.
Delivers Hot Water On An As Needed Basis: Provides hot water only when you need it. Providing 2-3 gallons of hot water per minute. You will never run out of hot water.
Cons
Higher Intitial Cost: Depending on the model you choose, with installation you can expect costs of somewhere between $2000 and $4300. Installing a tankless water heater isn't really a job for Do-It-Yourselfers
Need to Be Retrofitted to Your House: The process of switching from a tank water heater to a tankless water heater is quite a bit more complicated accounting for the higher initial costs.
If you need additional help deciding which water heater you should chose to replace your old water heater and you live in Carlsbad, Encintias, Oceanside, San Clemente, San Juan Capistrano, Ladera Ranch or Dana Point, give Leak Star a call
855-220-0188
.