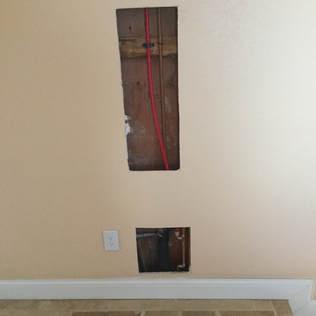 Are you someone who has been less than fortunate when it comes to
slab leak repair in Ladera Ranch
? Maybe you have been down this road more than once. A little consolation might be that you are not alone. I mean in a really big way. The need for slab leak repairs in Ladera Ranch is so great that there is a pending class action going on.
As a homeowner it is more than upsetting to say the least. The homes in Ladera Ranch aren't very old at all. You would never expect that your beautiful new home would spring a copper pipe leak or slab leak in just a few short years of taking ownership.
Even if you haven't experienced a slab leak yet, the numbers are not in your favor. These homes were built in mass. That means that the copper pipe used in your home is most certainly the same as the 7 families in your neighborhood who have already experienced at least 1 copper pipe rupture, pinhole leak or slab leak needing repair.
To put you at ease, it you have a slab leak which simply means that the copper pipe has begun leaking under your concrete foudation, it does not mean someone needs to come into your home with a jack-hammer and dig a hole through your beautiful wood floors. Just put that nightmare scenario out of your head.
To start with you need a qualifed slab leak detection service like Leak Star. There are multiple copper water lines running under your concrete foundation slab. It is important that the one doing your leak detection is knowledgable. While it's not rocket science it is important that the technician have a solid background in plumbing from the ground up. Leak Star is a family owned business going back decades with a stellar reputation throught Orange County and San Diego.
Once the slab leak is located and the offending copper pipe has been narrowed down, the slab leak repair can begin. In most cases it should take no longer than one day. Usually there is not even a need to leave your home. Leak Star uses equipment to contain dust as much as possible. If you have sustained water damage or possibly mold, barriers will be erected and powerful air purifers brought in.
The cost is always a homeowner's concern. The cost of slab leak detection varies between $150-250. The national average average for a single line slab leak repair is $2000. At Leak Star we charge $200 for your slab leak detection, but wait, if we do the slab leak repair (single line re-route), your leak detection is free. Your total cost will be $1750 which includes your free leak detection.
We have a stellar reputation in both San Diego and Orange Counties. Give us all call, we will not disappoint your expectations.
​
San Diego Co.
760-519-8466
​Orange County
949-429-9884