Plumbing Problems in Ladera Ranch
I suppose it goes without saying, Ladera Ranch has some serious plumbing issues in the community as a whole. So great is this problem that there is actually a class action suit. So, is the answer
slab leak repair in Ladera Ranch
? The problem is very tiny pinhole leaks in many homes copper pipe. There are those who would argue that it is faulty installation. I would argue, that this is not the case. These pipes generally develop these tiny leaks somewhere along a run of piping, not generally in the soldered joint.
Some would say it is inferior copper pipe. That may make the problem worse orcontribute, but we purchase from our plumbing supply houses supply. It still doesn't explain why certain areas are experiencing such catastrophic promblems. If it was inferior pipe only, than it seems like the problem would exist all over the country. Doesn't seem to be the case and it does seem to be a problem in many areas in Southern California. We see these types of leaks in San Clemente, San Juan Capistrano, needing
slab leak repair Carlsbad
, Encinitas, Oceanside and nearly every city in Orange and San Diego Counties. Newer homes seem to have more than their fair share of problems and since Ladera Ranch is a newer community, they seem to be hit the hardest, per capita.
My best guess after having seen 100s of these types of leaks is that as many believe is due to the Chloramines & possibly ofther additives that are in our drinking water. A chemical reaction causes the copper to pit on the inside of the pipe, eventually erroding all the way through. It starts a slow weep and eventually turns into a full high pressure spray. These pinhole leaks can appear in any area of your home, where water pipes run. The ceiling, the walls and even under your concrete slab, known as a slab leak.
Slab Leak Repair in Ladera Ranch
Slab leaks make up a big chunk of all plumbing leaks. While repairing a slab leak sounds ominous, it is really no more difficult than an in wall water line leak. Believe it or not, a slab leak detection is fairly easy if the right equipment is used and that is why it is important to get a qualified leak detection company to perform the leak detection service.​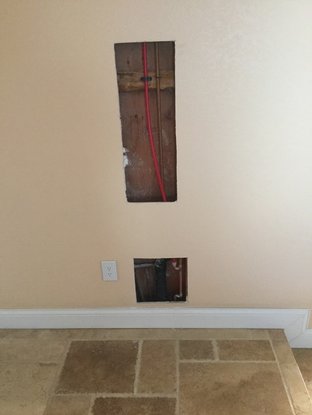 Once the failing copper pipe line is located, the rest is pretty standard. A plumbing
reroute
is usually the recommendation. Simply put, it is what it sounds like, the faulty pipe is abandoned and a new water line is reroute around it, connecting on both ends to existing water lines. This will mean some cuts to your drywall, but if you are careful about the plumbing company you choose, those cuts should be minimal.
In our experience locating and repairing these types of leaks, when we do a reroute, we recommend plastic pipe. Why? because at least for now, the water department in our area is not going to remove the Chloramine from our drinking water. It's supposed to protect us.....that is a whole other topic. It's going to keep destroying the copper pipe that is available in our area.
Multiple Slab Leaks
Some homeowners have been unfortunate to have multiple water line leaks. At what point is a reroute not your best option? To reroute a single line in an average size home in Orange County and San Diego County costs about $1700.00. But if after making the repairs you end up with a second or third pinhole leak, then what? When does it stop making sense to keep doing this?
If you live in one of these stricken areas a whole house repipe may be the best choice. For an average, 3 bedroom home in Southern California you can expect to pay $3000.00 to $5000.00 for a complete repipe. Give or take a little depending on square footage of home and how many bathrooms.
Let's do a quick look at the math. Two reroutes is going to cost you $1700.00 X 2 = $3400. That doesn't even included the drywall repair. Three reroutes is going to cost you at least $1700.00 X 3 = $5100.00. Factor in your down time, the price of having your life disrupted and the added stress of never knowing if you are going to come home to find your home flooded. The decision is yours.
A complete repipe will take several days. We don't usually feel moving out is needed particularly if you have not sustained heavy water damage. When plastic pipe is used, it is flexible and can be fished through smaller holes in your drywall. If you chose copper it will take longer, the cuts to your drywall will be extensive and you may want to move out.
Being a homeonwner and going through this can be difficult. First off, find a leak detection and repair service company that is licensed, bonded and insured. You want someone with experience and an excellent reputation.