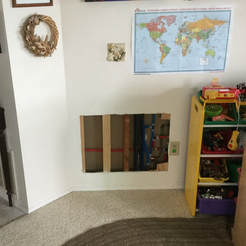 For a lay person, it's difficult to imagine how on earth on could make a
slab leak repair
without bringing in a jackhammer, tearing up your flooring and opening up an enormous hole in the floor of your living room or kitchen. Relax! Only under the most unusual of conditions is there ever a need to break open the floor.
If your plumber really knows what he is doing, then either a single line reroute is done or some times you may chose to just go ahead and just go for the repiping service.
Single Line Repiping
When would you chose a single line reroute over a complete
repiping
service? If this is the first ever plumbing leak you have experienced then a single line reroute might be the best option. Plumbing leaks will invariably happen over time. Multiple reasons couple be the cause. We have a flat rate of $1750 for a single line reroute. If we do the single line reroute and the leak detection, then your leak detection is free.
Complete Plumbing Repiping Service
However, if this is not your first plumbing water line leak, and you are on your second or maybe even third, then we would recommend a complete plumbing
repiping service
. We see this need for a couple of reasons. One the house is old and so are the copper water lines. They just may need to be replaced.
The other reason affects many newer homes. We see so many homes that are 10 years old or sometimes even less with water leaks. The problem is a chemical reaction between additives in our municipal water and the copper pipe.
Chemicals intended to protect our water supply react with the copper pipe and cause erosion and pitting on the inside of the pipe. Eventually a tiny pin hole size leak will develop, starting with a tiny drip. Once the water is forced through the tiny hole, it quickly becomes a larger spray. Whether a tiny drip or a full on spray the damage done to your home is real.
The Repair
Rest assured we almost never ever break up floors make a slab leak repair. Keep in mind, your insurance company will want you to do that, but please listen to us first. We are the plumbers, they are the insurance company. We don't do insurance and they certainly don't know plumbing. We can help you work with your insurance company so that you still receive the compensation that you deserve.
Our repairs our done by simply making a few smaller holes in your drywall. We try whenever possible to make the holes inside of cabinets or behind the refridge or washing machine. If that isn't possible, we have a couple of drywall contractors and painters that we highly recommend, we have used them in our own home.
Through those holes in the drywall we fish the new water lines, by-passing the failed water line. Connect the ends and you are good to go. A single line repiping service normally takes less than a day and the disruption to your water service will be 6-7 hours, so it is possible to be home while your reroute is done.
A slab leak repair sounds like a nighmare, but honestly if you deal with it as soon as you become aware there is a problem, it's more of an annoyance and can be quickly repaired. If you ignore it though, you can look at water damage and mold that will take much longer to clean up and repair not even to mention, the skyrocketing costs.
Give
Leak Star
a call. We will help you figure out what the best course for you is.