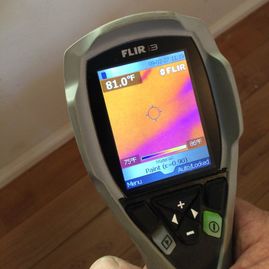 The incidence of slab leaks in Ladera Ranch have grown astronomically. Not only slab leaks, but leaks in the walls and coming from the ceiling as well. The damage done to a home or business that has succumbed to a copper pipe water line leak can be tremendous not only to health but to the structure of the building if not dealt with immediately.
So what should you do if you are so unlucky? First of all, call a qualified leak detection specialist like Leak Star. We have decades of experience behind us. We are not only qualified to find your slab leak or water line leak, but we are qualified to make the s
lab leak repair in Ladera Ranch
as well.
You probably have a lot of questions. Leak Star is always happy to educate you as much as you need. The more you know, the better equipped you will be to make an informed decision on the course you should take. The first thing you will need to decide is whether or not to have us do a single line reroute or do a complete repipe in your Ladera Ranch home. You aren't the only one who has had to make this choice.
First let me explain briefly the situation afflicting the Ladera Ranch area. Copper pipe leaks are extremely common due to the addtives in our water supply interacting with the inside of the copper water pipes usually calling what are called pinhole leaks. On occasion full cracks develop. These chemical interactions literally causes the pipe to pit and erode from the inside out until you have a slab leak or copper pipe leak in any other part of your home. This is such a serious problem than homeowners have banded together in a class action suit.​
Now for your decision as how to handle this. Most homes in the Ladera Ranch area experience multiple copper pipe leaks which can happen in completely different areas or close in the same length of copper pipe. Sorry to tell you, but the chances that you will experience another slab leak or another leak anywhere elsewhere in your copper line is highly likely, so I will explain to you the difference in a reroute or a repipe.
Cutting out a few inches where the leak has occured would be the least expensive route, but is never our first suggestion. Why? Because as was stated earlier there are without a doubt other errosion problems occuring elsewhere in the copper lines. Often all it takes is for your plumber to be working on the one leak which would including turning off and on the water under pressure and some giggling and shaking of the pipe which can easily dislodge waterever corrosion or sedimate was preventing the pipe from springing a leak in another area as can be seen in the images above.
This was a copper pipe leak reroute pictured which required dryout equipment. Then just a few days later, before we even picked up the dryout equipment anothe leak was spotted in a completely different nearby length of copper pipe. The amount of corrosion can clearly be seen in the second image. This is going on all throughout the copper piping of Ladera Ranch homes and businesses.
We always recommend a reroute around the entire length of copper pipe. Simply put, abandon the leaking run of pipe altogether and reroute a single line from point A to point B. That lenth of pipe should not leak again for possibly decades.
What then of the other copper pipes in the building? Yes, it's true, all of the copper pipes are experiencing this same type of errosion. We see it all the time. We do one reroute and are called back sometimes even within a day for a new leak elsewhere. That is why depending on where you live, like in Ladera Ranch a complete repipe is adviced. More expensive, true, but is absolutely more cost effective. A repipe is basicly done the same way as the reroute, only all of the copper pipe lines are abandoned and rerouted one at a time.
A complete reroute will give you the most long term satisfaction. No more waiting for the next shoe to drop. No more worrying that if you go on vacation you willl come home to find your home flooded. It's done and you can forget about it.
​For slab leak detection and slab repair in Ladera Ranch call us at
949-429-9884
.
For slab leak detection and
slab leak repair in Carlsbad
call us at
760-519-8466
.