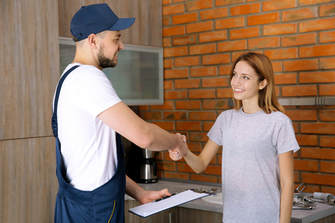 You've got a hot spot or a wet spot on your floor, or your water bill is astronomical. Maybe you're handy and have done some home repair projects before, or maybe you're just balking at the prices you're seeing online for professional
slab leak detection
and repair jobs, and you're wondering if you can just fix the problem yourself. Before you go running off to rent a jackhammer or a concrete saw, wait! Here's a few reasons you may want to re-think the DIY route.
1. Cutting Into The Floor?
You may assume that in order to get to a leak under your floor that you have to pull up carpet or wood flooring, remove subfloor, and cut through the concrete slab. This seems logical enough, but did you know that's not the recommended method of repair in California? Professional slab repair companies like Leakstar are usually able to repair your leak by simply rerouting your water lines around it. This necessitates only very small holes, usually in drywall. All of our plumbing professionals are trained to minimize the mess and hassle to you, and we complete most single line reroute in a day. You can trust our expertise and training,
and
keep your floors intact.
2. Repiping?
With certain leaks,
repiping service
is the method of choice. If you have a slab leak because of old, corroding pipes--or if you've had more than one slab leak--it can actually save you money and time to simply abandon the old plumbing and install an entirely new system, overhead and in the walls. Are you confident that you'd be able to determine the cause of your slab leak, and make a choice about whether to repair or reroute your system? We can help you make an educated decision,
and
do the repiping job.
3. Do You Have The Tools To Find The Leak?
Finding a wet spot or a hot spot and going straight down through the floor is an imprecise, old-fashioned way to find a slab leak (which is why we almost never do it). What if you cut through the floor and the concrete and find that the leak isn't where you thought it was? Perhaps it's inches or feet away, and now more floor must be destroyed. Additionally, if you cut into concrete, you may damage intact pipes and cause a worse leak. Why fuss with cutting into the floor at all? Slab leak repair professionals have modern, cutting-edge equipment that enable them to find the precise location of a slab leak and repair it quickly.
4. Keep Backup On Tap
If, despite the risks outlined above, you're still determined to try to fix a slab leak yourself, it can pay to have a reliable slab leak repair professional picked out in advance. If you shut your water off and start your repair only to find out that the job is more difficult than you thought it would be, you don't want to be stuck with no water and no idea what to do next. Keep your plumber's number close at hand!
What's the bottom line? A slab leak is a complex, significant plumbing problem. We just can't recommend that most folks try to repair it themselves. There's no replacement for the advanced equipment, extensive training, and experience that our slab leak repair professionals bring to the job. We can usually get your situation back to normal in a matter of days (i.e. one day for a single line reroute, 3-5 days for a slab leak or whole house repiping service), and our prices are very competitive. When calculating what a job will cost, remember to include the expense of renting equipment and spending vacation days doing plumbing. Why not let us put our experience and expertise to work for you? Before you try DIY, give us a call today.
Source:
Slab Leaks - www.plumberman.com