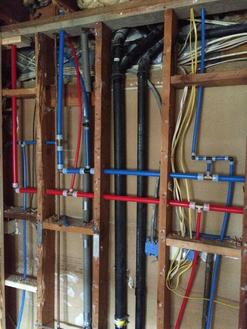 Repiping your home, should you do it? Good question. You may have considered
repiping in Carlsbad
if your home is very old or you have had multiple plumbing leaks.
Repiping in Encinitas
is also a consideration for the very same reasons.
It is quite normal for older plumbing to start leaking. Pipes corrode over time and depending on the type of pipe that was used you might experience low water pressure due to build up narrowing pipes on the inside. Or simply joints become corroded and begin to fail.
In more recent years the problem has been copper pipes developing tiny pinhole leaks. The cause of this newer problem is believed by many to be the fault of corrosive additives in our water that corrode and pit the inside of copper pipes, eventually leading to these types of pinhole leaks.
In either case, repairs may be in your future. I specifically use the term "repairs", because in both these instances, this is not just a one time thing. Those problems whether due to age or chemical additives are happening all throughout your plumbing system.
A typical scenario goes like this. Plumbing leak is found, there may be water damage, it may be a slab leak under the concrete foundation. Drywall removal may be needed, repairs done, which could be a slab leak reroute of a single line. Then there will be drywall repair, possibly stucco & new paint at the least. Cabinets, flooring, furnishings could all be damaged. Those costs add up. Not to mention the distruption to your daily life.
Once repairs are made, believe it or not a few weeks later you experience yet another slab leak! This happens more often then you might want to imagine. So sad to see our customers have to go through the same experience that they did before. At this point you may chose to do another single repair or reroute to the single offending line.
The thing is, there are a minimum of 15-20 water lines running through even a small home. There are potential problems in any one of those lines. So at what point do you ask yourself, repiping my Carlsbad or Encintias home, should we just do it?
As leak detection and repiping specialists in Carlsbad and Encinitas, this is what we recommend to our customers. The first slab leak or water line leak, let's just fix it. If you have a second, still kind of up in the air. A third plumbing leak of this type, it's time to seriously consider repiping your Carlsbad or Encinitas home. It is no longer cost effective, nor does the time spent with your home in kaos make sense.
In the case of a smaller home after just 3 reroutes you will have surpassed the costs of completely repiping your home. We understand, the thought of repiping is daunting. Really it's not much worse than each single line reroute. It's going to take longer, but once complete, repairs to drywall made, than you can move on with your life. No need to worry when the next pipe will spring a leak. Just one less thing to worry about in your life.
​Give us a call
760-519-8466
. We will answer your questions, try to set your mind at ease.