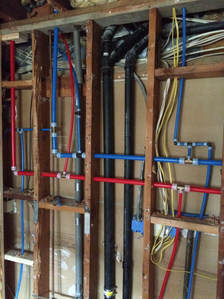 Repiping, when is it time to just go ahead and do it? This is a question many homeowners face.
Repiping Carlsbad
homes is common and at some point it just makes sense to go ahead and do it.
When is it time to just go ahead and consider
repiping Encintas
homes? Our recommendation to everyone is if you have had to do more than two reroute or single line repiping, than it's time. Or if your home is very old, and you have had at least one major water line leak, repiping is something you really want to consider.
Repiping Ladera Ranch
homes is very common. The Ladera Ranch area has significant problems with copper pinhole leaks. Many homeowners have decided with the history of Ladera Ranch that repiping is the way to go after even just one water line leak.
There is also a great need for
repiping San Marcos
homes. Many of those homes are older and after a single leak it is often determined that repiping the house is a good idea for peace of mind.
The thought of repiping your entire home may sound terrifying. It's really not as bad as it sounds. If you are careful with your choice of who does your repiping you shouldn't even have to move out. There is no need to remove huge swaths of drywall. If done with care, smaller cuts in the drywall should be all that is needed.
We recommend the use of PEX pipe. It is soft, and can be fished through the walls and attics. With ridged or even soft copper, it is more difficult. There is no fishing of pipe through the walls or existing pipe with the use of copper pipe. It just requires more cuts and drywall removal.
Give us a call @
855-220-0188
. We will help you determine if now is the right time to repipe your home.