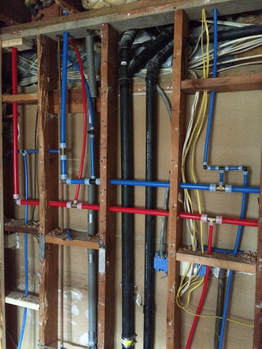 After doing leak detections in North County, we often find ourselves
repiping Carlsbad
homes as well as
repiping Encinitas
homes. Repiping your home or business is sometimes the best solution, especially if you have had multiple water line leaks or under concrete fountdation slab leaks.
Repiping your home does not need to be as traumatizing as it sounds. If you hire a plumbing contractor who has the experience a relatively small amount of damage should be done to your home. Here at Leak Star our aim is to keep you in your home while we work around you if that is what you choose to do. We are efficien, clean, and fast
There are a couple of options when repiping Carlsbad and Encinitas homes. Your plumber can use copper or they can use PEX pipe. At Leak Star our preference is PEX pipe. Your first thought no doubt is that copper is the much better choice, but as the experts let me explain why we like PEX pipe over copper.
First off, copper pipe is somewhat of a problem due to the additives in our municipal water. Often that is the reason you are experiencing water line or slab leaks in the first place. The additives react with the copper causing pitting and errosion on the inside of the copper pipe.
The second reason is the cost, not just to your wallet, but in your time. A copper repipe is a much more lengthy process and the damage to your home will be far greater. The mess will be significantly greater and staying elsewhere during the repiping service is really a must.
Why repiping Carlsbad homes with PEX is our first choice is fairly simple. First, you will not have those municipal water issues with PEX pipe. PEX is a flexible plastic material.
The second reason is the cost to you, both in time and damage to your home. Being that PEX pipe is flexible, fewer and much smaller holes are needed to be cut in the drywall. PEX can be fished through many pre-existing water lines. A average 3 bedroom house should take approximately 3 days or less to complete. Leak Star can usually perform a plumbing reroute without you needing to stay elsewhere.
Continuing to repair one plumbing water line leak after another will slowly drain your wallet and cost you far more in the long run. If you are on your second or third leak, give us a call so we can answer your questions and give you some peace of mind.