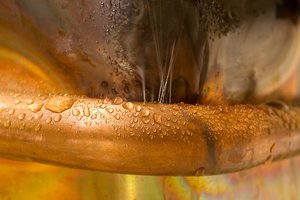 Hundreds of homes in Ladera Ranch are part of a class action suit. The problem is pinhole size plumbing leaks appearing in copper pipes. It is believed that chemicals in the water are causing copper pipes to errode from the inside causing tiny almost invisible tiny leaks. At first the leak may go undetected, but over time these leaks will continue to grow and turn into a heavy spray. If you are not home at the time, a spray can cause significant damage to the walls, ceiling and even running down to the floors destroying beautiful flooring and carpeting.
When the leak is still small damage can be just as serious. A small drop will slowly permeate drywall, running down the inside of your walls. It may not be so obvious, but no less damaging. These damp or slightly wet conditions are the ideal environment for mold growth. By the time you become aware of this tiny leak,
mold
has already begun to invade your home in just hours.
There are signs that you can watch for. If you do suspect a water leak in your
Ladera Ranch
home, give Leak Star a call at:
949-429-9884
. We specialize in leak detection & water line repair in Orange County. We are also equipped and qualified to begin the cleanup immediately to prevent further damage
Click the
link
to see an ABC Channel 7 News Report on the class action suit and the experience of a family in Ladera Ranch who exerienced multiple pinhole water leaks.