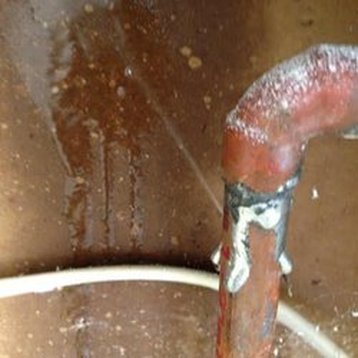 One of the most common types of plumbing leaks is a pinhole leak found in copper pipes. In our modern era copper has become the popular metal used for plumbing. It is lighter weight and more resistant to corrosion. Pinhole leaks are pretty much that, about the size of a pinhole. However, once your copper pipes begin springing pinhole leaks, more are sure to follow sooner or later.

Don't be fooled by their tiny size, a pinhole leak that is undetected or ignored will create extensive damage. These tiny drops will eventually turn into a spray and as water continues to accumulate, moisture will make a perfect environment for mold. Left long enough, even the structure of your home can be at risk due to wood rot.

Why pinhole leaks happen has not been understood until more recently. Here is Southern California it is the chloramines found in our water that are strongly suspected. In fact there are now law suits against numerous water departments who add chloramines to the water. Chloramines are believed to literally eat away at the copper pipes, causing pitting. Newer copper pipes seem to be more at risk than older copper pipes. Possibly the reduction of quality that we see across the board in order for manufacturers to pocket a little bit more of your dollars is part of the problem. These types of pinhole leaks have become a problem more recently.

Pinhole leaks can develop anywhere and for no apparent reason. As homeowners your only recourse is to repair the pinhole leaks as soon as you detect a leak. You can opt to repipe your entire home or we can do a reroute around the water leak. A reroute is far less expensive initially, but as mentioned before, one pinhole is usually followed by another, leading to additional reroutes.
If you choose to re-pipe your home as we did when our neighbors began experiencing one water leak after another, you will have peace of mind once again. You can opt for a copper repipe which is much more expensive and requires much more work involving cutting numerous holes in your walls and ceilings or you can opt for a repipe using PEX pipe which is far less invasive and can be done in a fraction of the time at a fraction of the cost.
​
Give us a call if you suspect a water leak. Not only will we find your leak, but we will help you make a decision that is right for you, reroute or re-pipe.
www.LeakStar.com