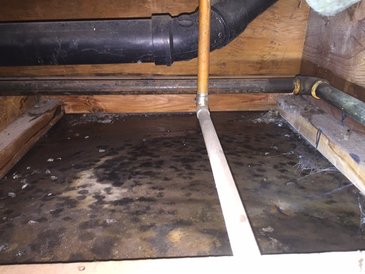 Mold removal is really important, especially when there are children, elderly or immune comprimized member of your famiiy.
In the line of work we do,
leak detection
most mold is due to
water damage
from either and ignored water leak or a water leak that you may not have been aware of. It is important to use a qualified mold remediation company. They should follow the precise EPA guidelines in order to preven further mold contamination of your home.
The Dangers Of Mold
For those sensitive to mold, mold can cause a stuff nose, irritated throat, coughing, wheezing, eye irritation and even skin irritation. If someone is allergic to mold according to the
CDC
the reaction can be much more severe. For those with compromised immune systems or chronic lung conditions, serious lung infections can set in.
There is clear and sufficient evidence that indoor mold is associated with upper respirtory symptoms, coughing and wheezing in what might be otherwise healthy individuals.
Mold Due To Plumbing Leak

Mold grows extremely well on paper products and wood. That makes your home very susceptible when you consider most houses are constructed with wood, lined with paper that cover the insulation and every inch of your drywal is covered with paper on both sides.

When your sustains water damage mold begins to grow on those wet surfaces particularly those prome to mold like the drywall and cabinets rather rapidly. In fact it just takes 24-48 hours for mold to begin growning and you can have a whole colony in 1-2 days.

Why Hire A Professional

You may feel that hiring a mold removal or mold remediation company is just to expensive, so you will do it yourself by using the little fan that sits on your dresser in the summer. It's just not advisable, and here is why.

Even if a small amount of moisture is left behind baseboards or under the carpet or in the padding of the carpet it will likely take a couple of weeks for it to dry out. That is plenty of time for mold to begin to grow. Chances are also quite high that water has seeped under under the walls and potentially into adjoining rooms. We see this all of the time.

What To Expect When You Hire A Professional

First of all, we always set up a containment field. This prevents dust and even more important any mold from being spread around your home. All wet material should be removed and that includes the furnitre, carpert, drywall and cabinets. If a small corner of carpeting is all that is wet then it could be possible to pull that back and expose it to the dehumidifying process.

Occasionally cabinet may be saved if the water damage is not to severel or if mold has not set in. Mold removal can be extremely hard on the exterior cabinet finish and they end up ruined just from that.

When it comes to drying out the drywall, some will just remove the baseboards and cut a few holes in the drywall to let dry air in. Problem is, you just can't know for sure how dry it is behind the wall. For that reason we generally recommend simply cutting out the wet drywall, complete the dryout process and replace with new drywall. Drywall is pretty inexpensive and the repairs won't cost much more that if the were repairing a bunch of smaller holes.

One the area has been cleaned up and if there is no mold, an industrial dehumidifier and air blowers will be moved in. Sometimes we bring an industrial air purifier in if the situation warrants.

If mold removal and or mold remediation is needed, once all of the wet/moldy material has been removed, all surfaces will be scrubbed with antimicrobials. An industrial air purifier should absolutely be set up when there is mold. Once the mold has been cleaned up a dehumidifier or will be brought in. Depending on the size of the room, there could be more than one. Fans to help keep the humid air moving too. These should be run contiuously for at least 3 days.

Once the water damage and mold removal is complete you should have a clean slate to begin the restoration process. ​