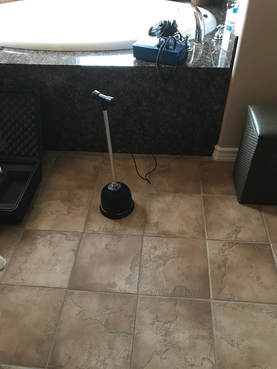 Many new homeowners--and even a few who have been around the block a few times--don't understand why anyone would want to have a
slab leak detection Carlsbad
professional in their corner. They don't understand how dealing with a slab leak is different than dealing with other plumbing problems, and they may underestimate their own risk of a slab leak. The bottom line? If your home sits on a slab versus a traditional foundation, you should read on to see if you're at risk.
What IS A Slab Leak?
A slab leak occurs when a pipe that's located under the concrete slab that your home is built on fails, and leaks hot or cold water or even sewage. These leaks are often not immediately apparent, especially if the water seeps away into the dirt around your home.
Why Are Slab Leaks A Problem?
Many people discover a slab leak when they get an astronomical water bill. A leak the size of a nickel can cause the loss of thousands and thousands of gallons of water in a month. Even if you could afford to pay for all that wasted water, the water can do a lot of damage to your home. If it wells upward, it can saturate floors, walls, and cause structural damage. If it seeps into the ground, softening it, it can cause your foundation to shift and even crack, rendering the home unsafe. (This is why a quality slab leak detection company and, if needed,
repiping service
, are necessary if you suspect a leak.)
What Are My Risks Of A Slab Leak?
Slab leaks are more common in older homes, which sometimes utilize less than ideal construction techniques or old-school piping. If certain types of pipes are exposed to electricity (in the soil or due to electric lines running near them) they can suffer "electrolysis", which leads to corrosion and eventually a leak. It's also common for water that's acidic or has certain treatment chemicals in it to react poorly with certain types of pipe and cause corrosion. Lastly, earthquakes and tremors can simply damage pipes even if they were properly constructed.
What Should I Do If I Suspect A Slab Leak?
The most important thing to do if you suspect you have a slab leak is to call a qualified professional as quickly as possible, in order to minimize damage and expense. If you own an older home that sits on a slab, you'd be well-served to have an experienced professional picked out
before
you need to call one in an emergency. Don't get stuck relying on the first plumber you find in the phonebook or with a quick online search--be sure that you're trusting your precious home to the experts.
If you're wondering whether you've got a slab leak, please give us a call. We'll find, diagnose, and fix your leak as quickly as possible, so you can get back to enjoying your life.

​The Basics of Slab Leaks - Express Plumbing Idaho