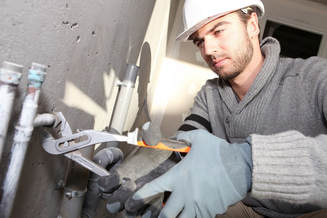 If you've found a wet spot on your floor, odds are that you're eager to get your
slab leak repair
professional to work. But don't let desperation force you into an unwise decision. If you haven't worked with this plumber before, it pays to ask a few questions when you're looking over the contract.
1. Are You Licensed?
​
Before you trust someone with your hard-earned cash and with your home, it's common sense to make sure that they actually have training in their area of expertise. Your plumber should be licensed, and should display their license number prominently. (Our license number is available on our website.)
2. Can I See Some References?
Quality plumbers should have plenty of satisfied customers in their history, and they should be able to provide references and testimonials. You shouldn't be reduced to simply Googling for information about your plumber (although that's a good idea, too). We're proud of our customer service record, and you can find many testimonials on our website.
3. Who Bills Insurance?
If you intend to submit a claim to your homeowner's insurance, be sure to begin sooner rather than later. Don't assume that your plumber is going to bill your insurance for you; most often, you will need to submit the claim to your insurance yourself, although your plumber may work with you to facilitate that. Be clear on who is responsible for each part of the insurance process, to avoid unexpected expense. (We have extensive experience working with insurance companies, and can help you through the process.)
4. What Does Each Line Item Include?
Your plumber should be able to explain what each line on the proposed contract or estimate is for. Keep in mind, however, that estimates are called that for a reason. Things can and will change as a job progresses, but you should be able to get a rough idea in advance.
For example, if the item reads "labor", the plumber should be able to explain exactly how many hours they anticipate you being charged for. While it's not always possible to know in advance exactly how long a job will take, the plumber should be able to give you an approximation. Likewise, if there is an item reading "parts", the plumber should be able to explain what parts are typically needed for a repair job like yours--even if, later, it turns out that not all of them were needed or that extras were. Limitations aside, the point is to have a rough idea in advance what you're paying for.
Even with an emergency like a slab leak repair job, you should be able to have confidence that your plumber is looking after your best interests. You should always expect to have any contract or estimate fully explained to you, and we are always willing to do so. If you want to be sure that you're entrusting your slab leak repair to qualified, honest professionals, give us a call today. We'll be glad to set your mind at ease.
​