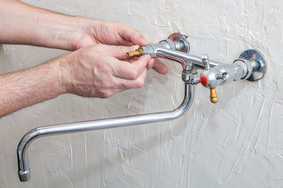 According to the Municipal Water District, water rates in Carlsbad, California, will increase effective January 1, 2017. The new water rate hike may add around $5 a month for the average household, which the Water District attributed to the rising costs of imported water from the Colorado River and Northern California.
Besides the heightened cost of imported water, another possible reason for higher water bills is water waste caused by leaky pipes. Based on the report of the Department of Water Resources of California, the whole state loses around
228 billion water gallons
annually due to damaged or eroded pipes. Home owners will benefit from understanding the components of their water rates and the role of timely plumbing repairs in reducing water waste and increasing rates.
Higher Water Rates in Carlsbad
In Carlsbad, as well as the rest of California, water rates have two components: The fixed part, which is the always same, regardless of the amount of water consumption and the variable part, which is based on water usage. People who use less water pay a lower variable portion. Though there is no breakdown on the fixed component of the water bill in the website of the City of Carlsbad, a portion comes from the
loss estimate
, which is based on the amount of water lost or stolen, a cost that is passed on to ratepayers.
Some of the seeping water has been connected to an undetermined water loss due to plumbing leaks in Carlsbad. Jaime Chambers reported that this kind of outflow loss already contributed to thousands of wasted water gallons, yet irrigation specialists could not determine the primary origin of the leak. This, plus countless other household plumbing leaks, results in a significant amount of squandered water in the Carlsbad area alone, which increases the fixed part of the water rate.
Plumbing's Role in Decreasing Water Wastage and Rates
Plumbing
has an important role to play in decreasing both wasted water and higher water bills in Carlsbad. Routine maintenance that can identify and fix plumbing leaks immediately can significantly reduce the volume of lost water. Plumbers also install new piping systems for more efficient water distribution and drainage.
Experienced plumbers can likewise help diagnose irrigation issues and identify causes of leaks. Moreover, licensed, experienced plumbers in and around Carlsbad can help find immediate and long-term solutions to these irrigation and other plumbing water leak problems. Finally, with resolved plumbing problems, the fixed cost of water bills may drop, which might decrease rates in the long run. Hence, water conservation through proper plumbing maintenance and water waste resolutions may help address some concerns about rising water rates.
Sources:
"Leaky pipes waste millions of gallons of water in L.A., Pasadena and San Gabriel Valley," Mike Reicher, Pasadena Star-News, October 21, 2014 "Water Leak In Carlsbad Eludes Irrigation Specialists," Jaime Chambers, Fox 5, June 29, 2016, "Water Rates Explained," City of Carlsbad, California,