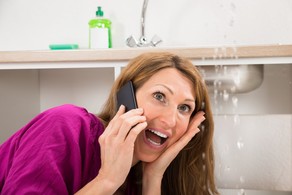 A burst or leaking pipe is an emergency that every homeowner eventually encounters. This often occurs if your home has older pipe lines or excessive pressure due to a faulty regulator.
Whatever the cause, water line leaks and their consequent repairs can cost you
thousands of dollars
. But if you know the proper steps to take in the event of a water leak, you can mitigate the damage—and the costs—incurred.
Turn off the Main Water Valve
Just like your main power switch, the main water valve controls the water supply of your home. Know where it is and turn it off immediately after discovering a slab leak or other water line leak. You would be surprised at the number of homeowners who don't know (or have forgotten) where this valve is located.
Drain the Water in Your Pipes
Now that you have shut down the supply of water to your home, the next thing to do is drain whatever water remains in your plumbing system. Fortunately, this is very simple to do: Just turn on any faucet in your home. By doing so, water is diverted away from the burst or leaking pipe into the sink, tub and or shower preventing further water damage the leak might cause.
Evacuate the Family
While a burst pipe is by no means a major hazard (think house fires), they do pose some very serious safety risks. For instance, the wet floor makes people more susceptible to slip-and-fall injuries. Moreover, there is the very real risk of electrocution, especially if electronics and appliances become immersed in the water.
Call a Plumber Stat!
While you can attempt to repair the burst plumbing yourself, it is much wiser and safer to just call a
plumber
serving Encinitas who is qualified to do a thorough leak detection. Knowing you have a water line leak may be obvious, but just where the plumbing leak is coming from may be more difficult to determine. Identifying the source of the leak can often be a challenge, as is the process of repairing it. Should you botch the repair, there is a real possibility of the leak reoccurring at a later time. Professionals, meanwhile, possess the skills and the equipment to efficiently repair such plumbing problems.
While a burst or leaking pipe can be a huge headache, there are steps you can take to keep it from becoming an even bigger pain. The most important step of all is to not panic take heed of these "first aid" steps.
Sources:How To – Dealing with a Burst Plumbing Pipe Emergency, YouRepair.comLandlord Tips for a Water Emergency, RentPrep.com