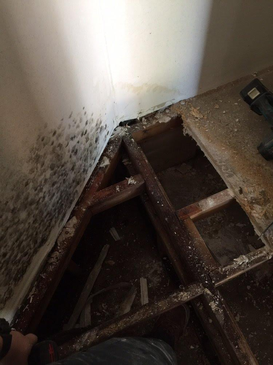 Treating your home and property with utmost care is every home owner's priority. A water leak often a slab leak should be dealt with extreme seriousness. There can be different causes of water leaks below your home's foundation.

Where are these so-called "slab leaks" located? When do these water leaks occur?

A water leak under the slab occurs literally underneath the concrete slab of your home where a maze of water lines are found. Sometimes crowded and shifting soil or clay below the concrete can put heavy amounts of pressure in the concrete itself and cause the slab to loosen and crack giving way to a leak eventually.

More often than not, in the San Diego & Orange County areas, slab leaks and most other copper water line leaks are caused by a chemical reaction created between the copper pipe and the additives in our public water supply. This interaction causes copper pipe to literally erode from the inside. Small pits develop and as they grow they erode to the outside of the pipe, eventually creating a pin hole size leak which under pressure continues to grow.


Early slab leak detection is recommended, and expert slab leak repair San Clemente should be performed due to the following effects:

1.Extreme water damage to your home which will cost you more money in the end.

2. High electricity and water bills can also be prevented if slab leak detection and repair are performed early. Don't wait once you suspect a water leak. You will save yourself a lot of money, time and frustration of dealt with early.

​
3. A slab leak may also be dangerous to you and your family's health. As water leaks into your home, molds will start to grow quickly inside your walls. Molds on many surfaces and in the air may cause a variety of serious health effects especially on people who are suffering from obstructive lung disease. It is possible to get serious infections when exposed to mold on a regular basis. Breathing mold-infected air for an extended period can also cause throat irritation, nasal stuffiness, and wheezing or coughing. In some cases, eye and skin irritation may also occur if molds come in contact with the skin.

If you smell mold or notice growing molds under your carpet along your baseboards or on the wall, call Leak Star Advanced Leak Detection professionals at 949-429-9884. Slab leaks are not something you can ignore. It is also not recommended that you do your own slab leak repair as you may cause more damage to your property than you care to pay for. A full-service slab leak detection San Clemente company like Leak Star can be reached 24 hours a day in case of a plumbing emergency.

​