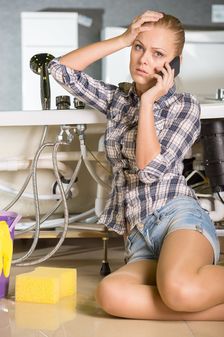 Plumbing is one of the top five components you need to check before moving into a new house. After all, no new homeowner wishes to experience costly plumbing issues shortly after buying a house.
While it is always wise to call a plumber to inspect the plumbing before moving into your new home, it's useful to learn the basics of spotting potential plumbing problems you might be forced to confront sooner than you'd expect.
Get acquainted with your pipes
To help you become more adept at spotting potential plumbing issues, it pays to learn more about your plumbing first. Generally, there are two types of pipes in your plumbing system:
supply pipes
and
drain lines
.
Houses built around 1978 to 1995 used polybutylene pipes. If ever you notice such pipe in your plumbing, call an expert
plumber
to immediately replace it. These pipes are known rupture and a water leak can potentially cost you thousands of dollars in water damage, plus there is the potential of mold which can be dangerous to your health.
You should also consider replacing galvanized steel pipes, if you have any. Though it is still available on the market and can still be used for pipe repairs, galvanized steel is highly susceptible to corrosion—definitely undesirable for pipes directly in contact with your water supply system. Galvanized steel pipe rusts from inside out, so watch out for brown or murky water coming out of your faucet.

Subtle Signs in Your Pipes

Aside from the obvious signs, like dripping faucets and leaking pipes, you must also watch out for subtler signs like turquoise blue spots on copper pipe. This a clear indication that water is beginning to corrode on the inside and beginning to show externally. Flaking or rust appearing is also a sure clue that your water lines need repair or replacement. Any one of these signs can mean your pipes are already deteriorating.

If you notice stains anywhere on drywall, including ceilings, closets, or along baseboards, call a qualified leak detection specialist and request a complete water line leak detection including the sewer lines which are also prone to leaks and create a very unsanitary situation.

Old water lines and drain pipes are commonly made of metal (copper, galvanized steel, cast iron), though most modern houses are now using CPVC, PVC, or PEX for pipes because these are not as vulnerable to deterioration.

Unexplainable Increases in Your Water Bill

Another sign of plumbing trouble is when you notice your water bill unexplainably ballooning. Chances are, you have a hidden leak in your plumbing. It can be as small as a pin hole leak which is common in copper pipe followed by those little turquoise blue spots or it can be a much large slab leak under your concrete floors.

A simple way to confirm this is to regularly check your meter readings when your water taps are all off and compare them with each other. If the meter readings show a significant difference, even with all the taps off, your pipes are likely leaking.

If your water usage is not metered, you can still check for leaks by looking for drastic variations in lushness of vegetation, damp patches, or listening for a constant sound of flowing water along your pipes. Mold appearing on walls or warm spots on your floor are other clues that you need to request a leak detection specialist.

If you notice any of these plumbing irregularities, contact a plumber who specializes in leak detectio to assist you in dealing with these problems so that they don't result in something catastrophic.

Sources:

What are the most common plumbing problems with older houses?, McGarryandMadsen.com
How to Recognize Different Types of Pipes, Dummies.com
​